Woo hoo! Yipee! Hooray! I have been given my first ever blog award...the Versatile Blogger Award!!!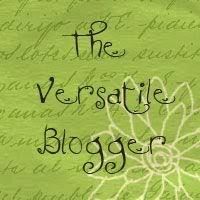 Thank you Tanya!!!! Go "follow" her, support a fellow blogger.


Now for the rules:

To accept this award:
* Thank the person who awarded you.
* Divulge 7 things about yourself.
* Award 15 discovered bloggers.
7 Things About Me:
1. I HATE shopping for clothes...Exminity exists between me and Outlets malls.
2. I have 2 children (a boy and a girl)
3. I LOVE to read (books, magazines, blogs)
4. I've been married for 12 years to an amazing man who makes me laugh every day.
5. I have discovered that I love to cook.
6.My motto...If it's free, it's for me! I know how to find a great deal.
7. I was born in Puerto Rico.
And now for my fellow award recipients:
15 Blogs you should follow
......